As the name implies, Airport CDM is about partners working together and making decisions based on more accurate and higher quality information that has the exact same meaning for every partner involved. An opportunity for better use of resources, improved punctuality and predictability is the result.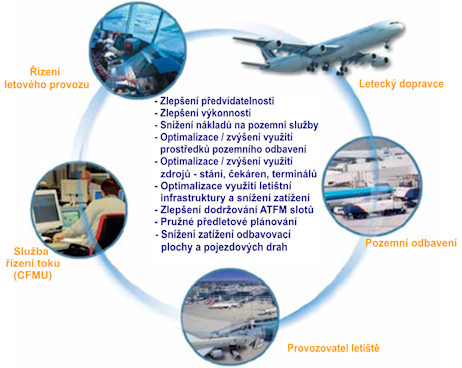 In the absence of Airport CDM, operational decisions may often be incorrect, or do not get made at all. Partners may make conflicting decisions as the result of lack of information or the receipt of information that has diverging meaning to different partners. Addressing these shortcomings individually will bring improvements but we can talk about Airport CDM only when the whole complex set of issues is addressed in its totality and the following is achieved: Airport CDM requires very close collaboration between ALL THE PARTNERS involved in the management of flights.
Further to airport and aircraft operators, air traffic service providers, ground handling companies and the CFMU, others may also play a role. For example, a blockage of the airport access road can have a major impact on the number of passengers late for check-in. Airport CDM partners will want to know about this.
From Concept to Implementation Airport CDM is a concept that prescribes better collaboration between partners, using better quality and more timely data, which is interpreted in exactly the same way by all partners.
CDM is implemented in the airport environment through the introduction of functions which realise the aims of the individual Airport CDM concept elements.
Working together, sharing information, acting on shared information, the need to improve predictability and punctuality, to make full use of available capacity are of course not airport specific items. They are equally applicable to the en-route environment.
Collaborative Decision making (CDM) is about improving the way Air Traffic Management, Airlines and airports work together at an operational level.
It means putting power in the hands of the people best placed to take decisions.
Collaborative Decision Making is seen as an important approach to making best use of scarce resources such as airport runways, airport terminal gates and Air Traffic Flow Management take-off slots. Furthermore, it aims to give Aircraft Operators more flexibility to maximize their own efficiency in meeting their schedules.
Zdroj: EUROCONTROL