Details
Terminal 2
Public Area
Opening Hours
Mon - Fri: from 05:00 to 22:00
Sat - Sun: from 05:00 to 22:00
The Raiffeisenbank Lounge is designed primarily for guests travelling within the Schengen Area from Terminal 2. While waiting, you can also use the lounge for departures from or arrivals to Terminal 1.
The Raiffeisenbank Lounge Offers
The convenience and comfort of the lounge
Individual security checks
All-inclusive refreshments
TV, Wi-Fi, tablets for rent, newspapers
Children's corner
Showers
Where to Find Us
On the second floor of the Terminal 2 departure hall with entry via a red-carpeted staircase.
Price List
One visit of the Raiffeisenbank Lounge
The price above covers a 2 hours stay and is inclusive VAT. Children under 3 years of age accompanied by an adult visit the lounge for free. You do not need to book the visit in advance. Payments on the spot are accepted.
Private Check-in Service + Raiffeisenbank Lounge
The Private Check-in Service brings you the option of individual check-in for both you and your baggage. We will do everything on your behalf while you enjoy the comfort of the Raiffeisenbank Lounge.
Prices valid for all bookings taking place from 1 June 2019.
 1,999 CZK / 1 person
2,699 CZK / 2 people
3,999 CZK / 3 people (2 adults + 1 child under 14 years of age)
4,699 CZK / 4 people (2 adults + 2 children under 14 years of age)
The quoted prices cover a 2 hours stay at the lounge and complete baggage check-in, and are quoted including VAT. Children under 3 years of age accompanied by an adult visit the lounge free of charge.
Raiffeisenbank Cards:
Holders of Raiffeisenbank premium cards accompanied by up to one guest enjoy free visits of the lounge.
This applies to the Friedrich Wilhelm Raiffeisenbank card and the Gold card with the main identifier of an aircraft pictogram on the back of the payment card.
In order to register, it is necessary to show the card and the boarding pass if you are flying.
Airlines:
Learn about the possibility of enjoying a lounge visit at a favourable price from your airline.
Free lounge visits are commonly provided by airlines when business class tickets are purchased or certain cards attached to the airline's membership programme are used.
We will gladly check your eligibility for you to enter at the lounge reception desk.
VIP parking places at Terminal 2
1 000 CZK / day (always counted from midnight to midnight)

 Exclusively available for clients who have purchased the Private Check-in Service or access to the Raiffeisenbank Lounge.

You can book the service via e-mail raiffeisenbanklounge@prg.aero, and then a confirmation will be sent to you.

All places are located directly in front of Departure Hall of Terminal 2 and are labelled with a sign that says "VIP PARKING POUZE S REZERVACÍ" ("VIP PARKING – RESERVATION ONLY"). When arriving at the elevated roadway, take the driveway on the left.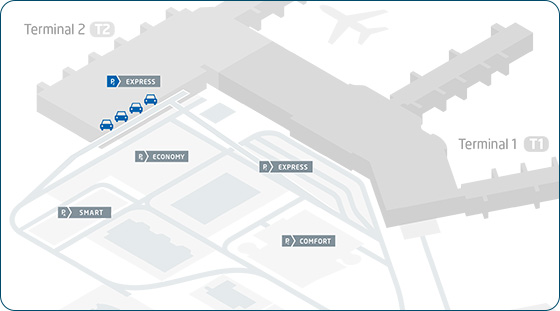 Gallery