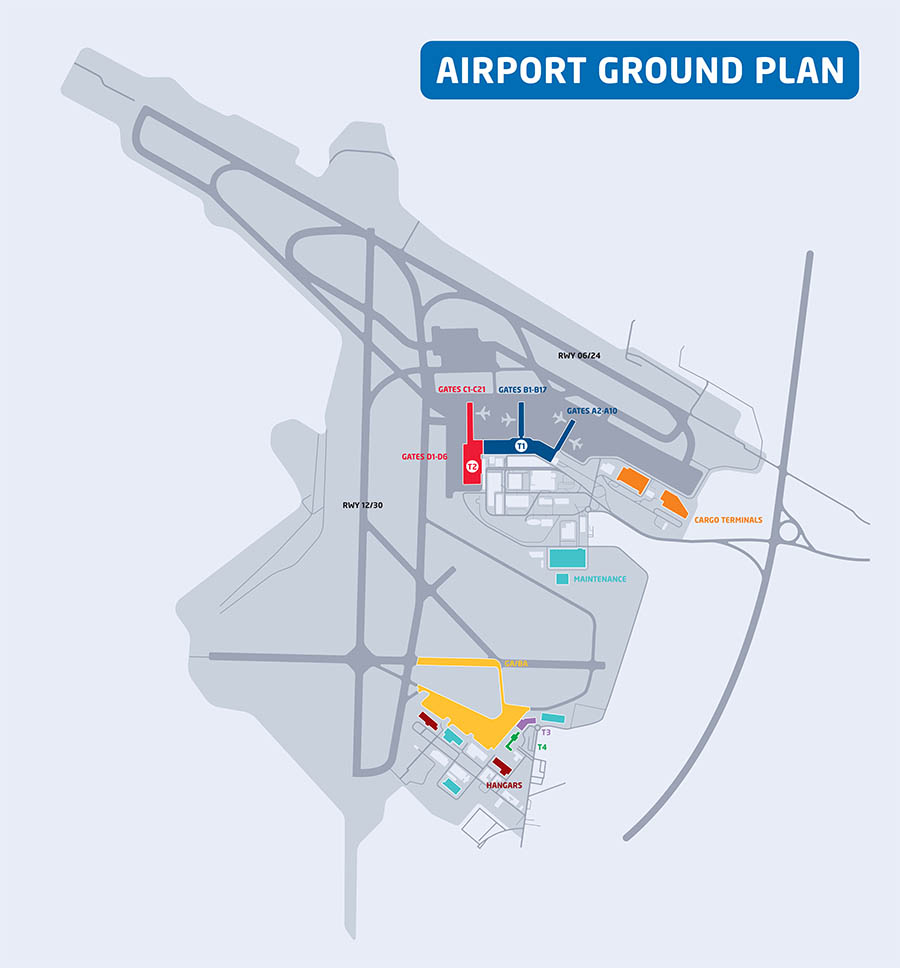 General and business aviation (GA/BA) including helicopter flights is dispatched from Terminal 3  with guaranteed individual service. Also various special flights (e.g. charters with sport teams) can be dispatched from Terminal 3. For these occasions regular check-in counters and baggage handling procedures are available. More here.
Handling services are mandatory at Václav Havel Airport Prague, therefore we recommend to arrange them in advance. The best approach would be to specify your requirements already in first contact in order to guarantee the required scope of services. Ground handling for general and business aviation is provided by these agencies which will then assist you as your local partner.
Crew lounge, rest area and briefing room are provided by all local partners. It's also possible to arrange crew transportation and accommodation if the need be.
Specific local operational procedures for arrival and departure can be found here.
Possibilities for aircraft parking or available hangar space are limited (depending on the size of the aircraft) and vary in time. For current status please contact your local partner.
Repair facilities and aircraft maintenance is provided by several subjects with various level of complexity for wide range of aircraft types. For details please refer to your local partner.
Engine test runs are permitted under aerodrome operator conditions only and charged according to the current price list. As a part of noise abatement procedures at Václav Havel Airport Prague, night restrictions regarding engine test runs are applied, see AIP CR LKPR AD 2.21.6. For details about engine test runs please refer to your local partner.
JET-A1 and AVGAS 100 LL are available at LKPR. Into plane services are provided by L.M. Czech Republic and Czech Airlines Handling (AIP CR LKPR AD 2.3), however for information about complex refueling services or fuel releases you may choose to contact your local partner.
Both exterior and interior cleaning services are offered for a wide range of aircraft sizes. In order to fit your needs best, please refer to your local partner.
National Czech cuisine, as well as international or even exotic meals can be provided for various occasions and length of flight. According to chosen menu your local partner will arrange the best match to your taste.
The handler (local partner) assists the passengers with baggage handling, immigration procedures and guides them through the terminal. Wide range of supportive services may be provided, for example:
VIP lounge with board to board service is provided by airport operator.
Passengers with reduced mobility can expect individual care.
Depending on particular circumstances also ramp access may be arranged.
Apart from these typically ground transportation, hotel reservation, tickets for cultural or sport events and many other services can be arranged. For closer details always contact your local partner.