Beekeeping, as one of the means of air quality biomonitoring, at Prague's airport was established in November 2011. Currently, 5 bee hives are kept at the airport in its SOUTH area. The main objective for beekeeping is to monitor the amount of foreign objects in bee products.
'Czech Honey' Certificate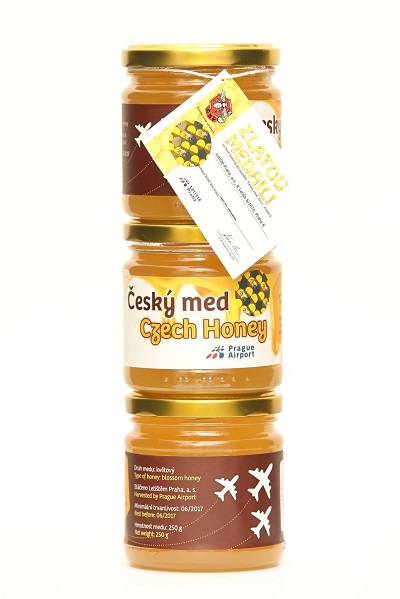 The honey collected at the airport is analysed every year by a certified laboratory for content of water, sugar and HMF (Hydroxymethylfurfural) reference substance, a presence of which shows the level of enzyme activity in honey. Enzyme activity is one of the reasons why honey is so valued in people's nutrition. Enzymes represent bee products added to honey during nectar processing. Honey produced by Prague Airport's bees has been labelled as "Czech Honey" since 2012, attesting to the fact that the product complies with all food administration directives and the quality norm of the Czech Association of Beekeepers. Moreover, since 2013, we compete in the "Czech Honey" contest under the rules of which the honey and its packaging must comply with strict set criteria. Honey physicochemical properties are evaluated alongside the mandatory wording and the accuracy of the text and secondary information on the label, sensory properties of the honey and the overall aesthetic impression. For compliance with the above criteria, we won a silver medal in 2013 and a gold medal in 2014 and 2015.
Pollen as Air Pollution Indicator
Alongside honey, pollen collected by bees also plays an important role. The pollen is submitted for examination to the Institute of Chemical Technology, Prague, where it is checked for content of heavy metals and organic residues (polyaromatic hydrocarbons). As bees collect honey from a 3-4-kilometre radius, measured from their hives, the performed analysis of this natural product reflects the quality of environment in the airport's vicinity. Pollen biomonitoring follows and broadens the tradition of monitoring fruit and agricultural crops, performed for several years now.