Letiště Praha, a. s. is managed by a four-member Board of Directors.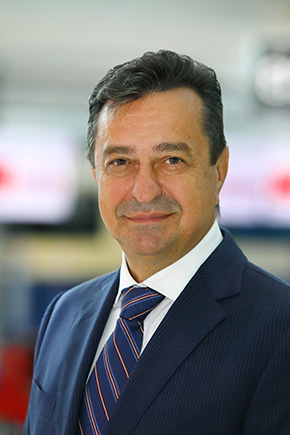 Ing. Jiří Pos
Chairman of the Board of Directors
Jiří Pos was elected as a Chairman of the Board of Directors on 30th August 2021. He has returned to Prague Airport after seven years. He joined Prague Airport in 2006 and was Chairman of the Board of Directors and its CEO from 2011 to 2014. From 2014 to 2015, he was a member of the Board of Directors of Czech Aeroholding. After leaving, he developed his private business activities, mainly in the field of civil aviation and tourism. From 2019 to 2021, he also served as Managing Director of Karlovy Vary Airport. He started his career in aviation in 1986 at Czech Airlines, where he worked for twenty years. He worked abroad for the Czech carrier from 1994 to 2001 and was Vice President for Ground Operations from 2003 to 2006. He graduated from the Czech Technical University in Prague with a degree in economics of aircraft manufacturing from the Faculty of Mechanical Engineering.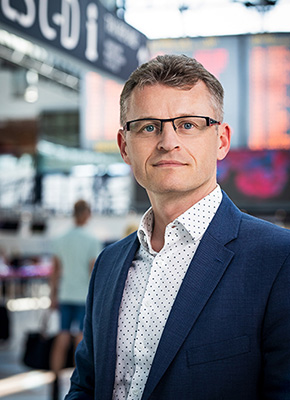 Ing. Jiří Kraus
Vice Chairman of the Board of Directors
Jiří Kraus has also been on the Prague Airport Board of Directors since 2012. He is responsible for central procurement and logistics, protection of the environment, facility management services, building maintenance and area upkeep. He has been working at Václav Havel Airport Prague since 1997, when he was primarily in charge of power and energy systems and investment construction (such as the Terminal 2 construction). He moved to Prague Airport from the Poldi Kladno company.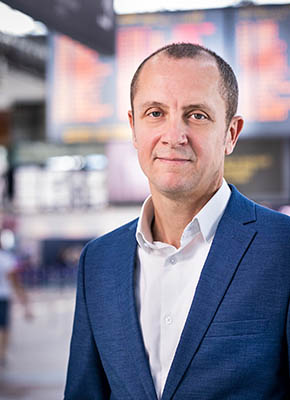 Mgr. Jakub Puchalský
Member of the Board of Directors
Jakub Puchalský has been a member of the Prague Airport Board of Directors since July 2020. In the company management echelon, Mr. Puchalský is responsible for aviation and non-aviation business, corporate and marketing communication departments. He has been involved with the airport since 2014. Firstly, in the Czech Aeroholding Group, then directly at Prague Airport. In 2018, Mr. Puchalský became Prague Airport Corporate Communication, Marketing and Customer Experience Executive Director. In 2020, he assumed the role of Non-Aviation Business Department Executive Director. For seven years prior to his arrival at Prague Airport, Mr. Puchalský worked at Raiffeisenbank, where he was in charge of External and Internal Communication. From 2003, he worked in the Unilever food concern, where he first managed Communication of the Czech And Slovak subsidiaries and then moved to the company's Dutch headquarters, where he stayed for over two years as Director of Internal Communication in charge of Europe. Between the years 1998 and 1999, Mr. Puchalský was appointed CEO of Czech Television. Jakub Puchalský graduated from the Faculty of Social Sciences of Charles University.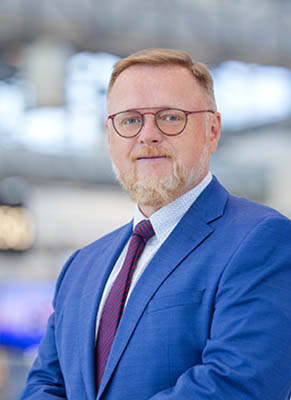 Ing. Pavel Východský, Ph. D.
Member of the Board of Directors
Pavel Východský has been a member of the Prague Airport Board of Directors since 1st May of 2022. He specializes in finances, HR, ICT, internal audit, risk management and compliance. A large portion of Pavel Východský's professional life is connected with Česká pojišťovna and the PPF/ČP Group, where he started working after he had completed his IT studies. His responsibilities within the company included corporate governance, internal audit, fraud investigation, and internal security. At the same time, he was a member of statutory bodies in selected subsidiaries in the PPF/ČP Group. After finishing a PhD programme in Economy, Pavel Východský became a member of the top management of Všeobecná zdravotní pojišťovna ČR, at first responsible for the area of internal audit and risk management, and consequently for the area of information technologies. His next steps led him to the KBC/ČSOB Group, where he managed to change the organisation into a new BusinessDevOps structure as a CIO of ČSOBP, including the implementation of electronic biodynamic signature to allow the clients paperless access as a part of digitalisation. Besides the aforementioned professional activities, Pavel Východský lectured and supervised diploma theses at the Bank Institute and AMBIS colleges.