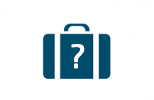 Opening Hours
Mon - Fri: Non-Stop
Sat - Sun: Non-Stop
Have you lost something before departure or after arrival at Prague Airport? Contact our colleagues to see if your lost item has already been found.
PLEASE NOTE: Items lost on board and undelivered luggage are handled exclusively by the carrier and its agent. For details, please get in touch with your carrier. Personal documents (passports, ID cards) are immediately handed over to the relevant department of the Police of the Czech Republic upon discovery.
Where to find us
After arriving at Prague Airport, Terminal 2, follow the navigation to Left luggage in the Departure Hall. You'll find us in the hall's corner at the Oversize Baggage Counter.
Scheduled break: 11:00 - 12:00 and 19:00 - 20:00