The airport is a unique place which is excellent for holding events and exhibitions. In the past, people have been able to see, for example, the best photos of the Czech Press Photo contest, historical appliances or examples of the most creative advertisements in the terminals.
Current events and exhibitions
The Airport and Václav Havel
The exhibition comprises a total of 16 period photographs depicting Václav Havel at the airport or on aircraft, mainly covering the initial months and years following his election as President of Czechoslovakia. Among the exhibited shots there is, for example, the memorable photograph of Václav Havel with the British rock band The Rolling Stones and a ceremonial welcome of Pope John Paul II shortly after his arrival in Prague. There are even photographs commemorating the process of renaming the Prague-Ruzyně airport after Václav Havel. For the purpose of the exhibition, each photograph is accompanied by a text describing its origin or the circumstances of the depicted situation. In addition to interesting facts from the time when Václav Havel was President, visitors to the exhibition can look forward to learning humorous experiences of Václav Havel and his colleagues.
When? From Friday, 15 November 2019 for three months
Where? The public area of the corridor connecting Terminals 1 and 2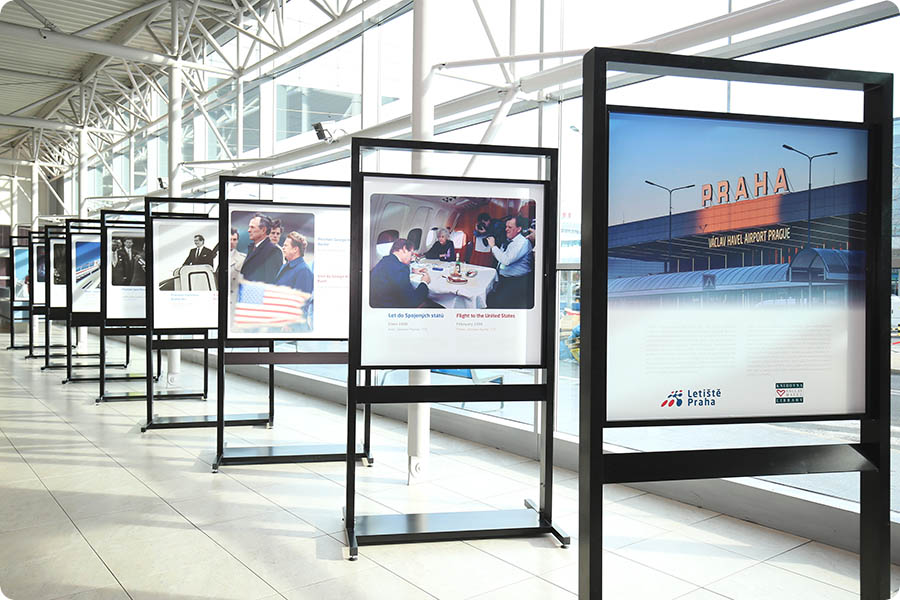 Prague Airport Story
Explore the breathtaking history of Prague Airport presented as part of an interactive exhibition for both younger and older visitors. Thanks to large screens, you will have the opportunity to take a look into the various airport development phases – from the landing of the first aircraft at Ruzyně Airport to the modern day and into the future development of Prague Airport. In addition, there is a display of contemporary newspaper articles on the topic of air transport and mannequins in airport uniforms for you to see. This exhibition will also take you, although only virtually, into a cockpit for a while and give you a chance to listen to the pilots' communication. Moreover, you will see how the flight radar monitoring air traffic works and if you can tell whether there is a prohibited item in the baggage screened by x-ray machines.
For children, there are interactive airport-themed puzzle games. You can take a photo of you and your family together here looking as if you were standing right on the runway or airfield next to an airplane parked there. Live the Prague Airport Story!
When? All day, every day beginning 22 July 2019.
Where? In the connecting area between Terminal 1 and Terminal 2 (between the Billa supermarket and the 1 minute bistro).
Gallery