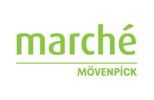 Opening Hours
Mon - Fri: from 7:00 to 21:00
Sat - Sun: from 7:00 to 21:00
Closed on Tusesdays.
Guests at the Marché Mövenpick market restaurant can choose from a variety of dishes prepared by hand live in an open kitchen using natural, preferably local ingredients.
Here you can see, hear, taste and feel the freshness: delicious treats from the grill, as well as freshly prepared pizzas and focaccia featuring choice ingredients, which are made to order by our pizza makers using homemade dough.
Another major culinary highlight is the vegetarian island, where guests can load up their plates with a variety of colorful, freshly prepared salads, vegetables and pulses to create their own dish and further personalize it with healthy superfood options and homemade dressings.