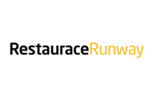 Details
Terminal 1
Public Area
Opening Hours
Mon - Fri: from 6:00 to 22:00
Sat - Sun: from 6:00 to 22:00
From 1. 11. 2021 the public part will be open only to employees. The non-public part will remain accessible to employees and passengers. Due to the extraordinary measures of the Ministry of Health of the Czech Republic, it will be necessary to prove proof of infectivity in the form of a certificate of completed vaccination, a negative test or proof of COVID-19 in the last 180 days.
Newly refurbished self-service Runway Restaurant welcomes you in a modern design. The daily menu offers a wide range of more than ten dishes of Czech and international cuisine. We did not forget to include a child's menu for the little ones. The restaurant also offers a large selection of home-made cakes and coffee. You can enjoy your breakfast in the Runway Restaurant until 10 a.m.
The Runway Restaurant can be found at Terminal 1 in the public area located on the 1st floor of the Arrival Hall, as well as in the transit area. To reach the transit area, follow the FOOD COURT signs.

Soups
Beef broth with rice and peas

Salads & Snack
Large vegetable salad with dill dressing


Large vegetable salad with chicken meat and dill dressing


Grill Point
Pork steak marinated in beer, potato-garlic puree with fried onions

Pasta & Wok
Pork sauté with vegetables and sesame, jasmine rice

Main Dishes
Black pudding, boiled potatoes, sauerkraut
Fried mushrooms, boiled potatoes, tartar sauce

Roast beef with peppers, dumplings

Vegetable side dishes for all main courses
Vegetables on butter 100g
Vegetables on butter 200g
Gallery